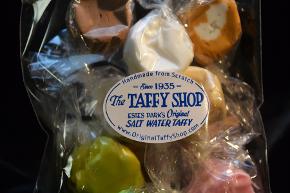 Offer your guests and clients fresh Estes Park Salt Water Taffy® favors, rewards, or gifts
It is our privilege to be a part of so many weddings, special events, corporate greetings and welcome baskets. Consider including our fresh taffy for your next special event to share some Estes Park Colorado history, and superior quality that customers new and old have come to appreciate with our hand made taffy - not only the candy in their mouth, but who gave it to them as well.
We are equipped to provide a complete favor ready to give away, or the parts for you to assemble your own gifts, including:
Fresh Estes Park Salt Water Taffy® assortments in any quantity (minimums may apply for the custom colors/flavors)

Jars, bags or other decorative favor containers
Customized stickers with the Bride and Groom names and date
Customized stickers with your company logo and information
Stickers with 'The Taffy Shop®' name and information (as seen above)
Add-ons: bows, ribbons, company cards
Custom inserts, greeting cards or advertising materials for each favor
We are able to ship completed favors via common carriers, or hand deliver the order depending on the distance, size of order and deadline.
We have many flavors and colors available, although we only make a limited number of flavors each day. With adequate notice we can have your preferred flavor available on the day you need it, or make up a special batch on request. Here are most of the colors and flavors you may choose from (this list is subject to change). Keep in mind if the color, flavor, or combination of the two elements is not something we would normally be able to sell in the store, there is a minimum order required. Questions about your colors or flavors? contact us

COLORS: Unlimited color range- our cook can match special requests, or combinations.
FLAVORS

CLASSIC FLAVORS
Available every day:

Cinnamon (pink)
Peppermint (green)
Lemon (yellow)
Texas Pecan (white w/pecans)
Vanilla (white)
Molasses (dark amber)
Chocolate (brown)
Salted Caramel with Sea Salt (amber/white)
SPECIAL FLAVORS
Available on rotating basis:

Anise (Black Licorice)
Banana
Blueberry
Butter Rum
Cappucino
Chocolate Pecan
Chocolate Mint
Cherry
Cherry Cola
Cotton Candy
Egg Nog
Grape
Lime
Orange
Orange Creamsicle
Peach
Pecan Pie
Pumpkin Pie Spice
Pineapple
Raspberry
Raspberry Lemonade
Root Beer
Strawberry


We work with the premier flavor mixing company in the world, and have access to any flavor or mix that you can imagine- but advance notice is critical as some custom flavor orders have long lead times. Call us!
SIZE / PIECES
Family / 150
Large / 90
Medium / 75
Small / 60
>> Piece count is approximate and depends on wrapped size with each batch <<
Calculate how much you need:
1. How many pieces do you want to serve each guest?
2. How many guests?
Multiply 1 x 2, then divide the result by 150 (# of pieces in a family box) for the best value. We are able to offer a discount for bulk purchases over $300.00 (approximately 10 family size boxes or 1,500 pieces)
Example:
(8 pieces per guest) X (125 guests) = 1,000 pieces of taffy
1,000 / 150 = 7 family boxes (@30 each) = $210
Add $10 for shipping (any amount) in the USA
Stickers are included at no cost for your packages (how many?)
CONTACT US with questions, or to order
All website content © Copyright 2021 Original Taffy Shop, Inc
The Taffy Shop® Located at 121 West Elkhorn Ave Estes Park, Co (970) 586-4548