Send us your list, and we'll send your gifts!
It's as easy as 1-2-3 (you will also want to do #4)
1. Send us the list of names/addresses
2. Submit a note that you want included with each box
3. Select size,flavor & ship date
4. Cross this project off your list!
We will pack the box and ship with your greeting in time to celebrate the holidays or any special event.
Email your list to: TaffyShopOrders@gmail.com. We will call you to confirm the details, take payment and add your gifts to the calendar. Done!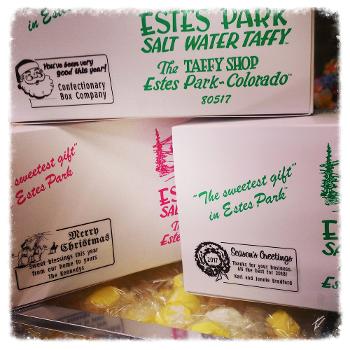 Personalized boxes including company logos are available,
see Special Services, below.
Order Early - Order Early - Order Early

Some details:
SHIPPING
Shipping is at the current UPS or USPS rate, calculated during packaging. If the product total exceeds $50 to one address, the flat rate promotion is $10 for shipping. We use either USPS Priority Mail or UPS Ground for all of our shipments, and deliveries generally arrive on time in a clean, professional looking box. We say 'generally' because shipments are delayed on some occasions beyond our control. Every package has tracking and you will be able to monitor your packages on the way to the destination. This year, the USPS and UPS have issued advisories that packages may not be delivered as quickly as in the past and they recommend ordering earlier than you normally would.
TAFFY SIZES
Our classic white taffy box filled with your selection of flavors
Family / 32oz / Approx 150pcs
Large / 20oz / Approx 90pcs
Medium / 16oz / Approx 75pcs
Small / 12oz / Approx 60pcs
Also available: Undecorated white paper bags or clear cellophane favor sized bags. See our Wedding page for images. These smaller options may be a better choice for an office where you want each person to receive their own 'gift', without being as large as a box. Call to discuss.
SPECIAL SERVICES
Customize box with your logo or text (see examples above)
Base set-up cost: $50 for single color logo; No set up charge for text only
Personalization cost:
1-33 boxes: $1.95/box, min $50
34-99 boxes: $1.50/box
100-199 boxes: $1.25/box
200+ boxes: $1/box
Lead time: Standard 5 business days after layout approval, Rush/next day: Add $50
Insert company materials or provided card
Send us the material to include and we will insert in each gift box during packaging.
Custom flavors and colors
Available, but subject to minimum order and longer lead times. Please contact us to discuss your idea.
RETURNED PACKAGES
On occasion, packages are returned to us because of delivery issues. In the event that we made a mistake, we will send a new box of taffy at our shipping expense to the recipient. In the event that the package could not be delivered for any other reason, we will notify you of the return, and let you decide whether to reship the box at an additional shipping cost to an alternate address, hold the return for you to pick up in the store, or discard the returned taffy.
WE'LL HELP YOU PLACE THIS ORDER
We're happy to help with any order, and we'll walk through it with you. Our goal is to provide a simple process to send quality gifts from The Taffy Shop to your people. Many of our customers prefer to have a conversation with us rather than fill out forms and figure it out on their own. No problem! Call The Taffy Shop at 970-586-4548 and leave your name, number and good time to reach you, and the right person will call you to get the information efficiently. You may also email us at: TaffyShopOrders@gmail.com, or, use our contact page to send a message.
All website content © Copyright 2023Original Taffy Shop, Inc
The Taffy Shop® Located at 121 West Elkhorn Ave Estes Park, Co (970) 586-4548