Order one of our fresh Estes Park Salt Water Taffy® boxes for delivery
Enjoy our taffy at home, or send to a friend. We'll include a hand written note for the recipient if you wish.
"MMMM! I'm not a super fan of taffy but this will change your opinion. It is tender, flavored just right and not sticky!"
--Kathy A
Estes Park Salt Water Taffy® Flavors
CLASSIC FLAVORS - Available Every Day

Cinnamon | Peppermint | Lemon | Texas Pecan | Vanilla | Molasses | Chocolate | Salted Caramel w/Sea Salt
HOLIDAY FLAVORS - AVAILABLE NOV 18, 2023
Mail orders entered BEFORE 2PM 11/17/23 will be shipped 11/18/23

Candy Cane Mint (red/white) -- Egg Nog (red/white/green)
Spiced Pumpkin Pie (orange/green) -- Colorado Praline (white/amber w/nuts)
DAILY SPECIAL FLAVORS - Available on a rotating basis
*With each new day, the cook chooses several special flavors, that change frequently*
Call us before ordering online to find out what today's specials are: (970) 586-4548.

If you MUST have a special flavor, place your order on the phone, so we fill the order immediately. Special flavors change by the hour, and may not be available when we retrieve orders placed on line, in that case we may ship your order without a special flavor unless you note that it must be included (in which case it may be delayed)

Pictures show an example, colors and patterns vary with every batch. Flavor is precise. Not all special flavors shown.
Do you have a PROMO CODE? Add the item to the cart, then apply the code during check out. Example: You have the code for a free tote with $50 purchase. 1. Add the eco-tote to your cart at full price 2. Apply the coupon code during check out for a $3 discount before you enter your card info. Questions? Call us 970 586 4548
DELIVERY BY ANY DATE IS NOT GUARANTEED UNLESS WE HAVE PERSONALLY SPOKEN AND SETUP A SPECIFIC CARRIER WITH GUARANTEED DELIVERY WINDOW. Both USPS and UPS have waived their delivery guarantees for regular shipping services since COVID etc etc. We will get your package packed and out of the store quickly, but we rely on these services for transportation. There are occasional in-store delays as well. If your package is time sensitive, contact us and speak with someone in person to communicate your needs and we will work to meet them.


>>>PLEASE READ THIS UPDATED INFORMATION
SHIPPING: During checkout, USPS Priority Mail is used to calculate shipping, although we will select the best carrier between USPS and UPS during packaging. If the order must ship via UPS or USPS specifically please specify that in a message to us. Orders generally leave our store within 1 or 2 weekdays. We do not ship outside of the USA. Please consider potential delays by the carrier when you order, and anticipate it may take longer. In example, the "normal delivery window" according to the postal service is up to 21 days, which they will refer to if there is a delay or problem. All shipments are tracked and you can see where your shipment is at any time. Taffy is packaged in a non-insulated cardboard box that generally travels well, but may not tolerate high heat. Use discretion when shipping to warm climates, once the taffy leaves our shop it is out of our control... Contact us for special shipping arrangements . Start a new order for each destination address. If you are ordering taffy to be shipped to more than 5 different addresses, please contact us for special handling.
Previously we offered a flat rate for any size order that has been revised due to carrier rate increases. When your order totals $50+, the 'Flat Rate' promotion will appear during check out. We will choose the best carrier and ship the entire order for $10.
Please also refer to our TERMS OF USE
Please complete a separate order for each shipping address.
ALLERGIES
Ingredients may include: Corn Syrup (dextrose), sugar, coconut oil, milk, cocoa, molasses, salt, gelatin, natural & artificial flavors, nut meats (pecans), FD&C colors (yellow 5 & 6, blue 1 & 2, red 3 & 40)
Our taffy does not contain Peanuts, Gluten, High Fructose Corn Syrup or Eggs.
Please contact us with any specific allergy questions.
Our clear wrapping paper is eco-friendly!
We are transitioning from wrapping in clear cellophane to NatureFlex™, although most customers will not notice a difference. It is a home compostable product, and is compostable and biodegradable. Biodegradable simply means that an item will break down over time as a result of natural processes, but does not account for time or manner of degradation. To be certified compostable, the product must break down into water, CO2, and biomass at a rate consistent with other biomaterials. Also, there must be no negative chemical effects on the final compost, which is ensured through eco-toxicity testing. In North America this is tested to standard ASTM D6400 for industrial settings. This material has a grater affinity for the salt water taffy in higher humidity and heat conditions, but is easily 'snapped' out of the wrapper with an abrupt motion to remove it without sticking. Chilling the taffy briefly in the fridge may help with a cleaner release from this clear paper if you are having any trouble unwrapping it. Move quickly!
What about Sugar Free Taffy?
We try to keep our recipe as natural as possible, and have therefore chosen not to offer a sugar free option. Why? Artificial sweeteners. If you have a choice, we recommend 'the real stuff', in moderation.
Satisfaction Guaranteed
You or your gift recipient must be delighted or we will make an appropriate replacement or refund. We handle concerns on a personal case by case basis to insure customer satisfaction. Contact the store immediately if there is any issue with product quality by calling the store at 970-586-4548.
Please call the store with any questions prior to ordering: (970) 586-4548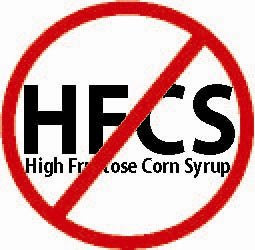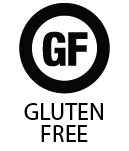 Our old-fashioned recipe is the same recipe we've used since 1935- before High Fructose Corn Syrup was invented, so you can rest assured that our ingredients are time tested and grandmother approved.
We do not use HFCS, or peanuts in any flavor, and all of our taffy is Gluten Free. If you have specific allergy questions, please contact us.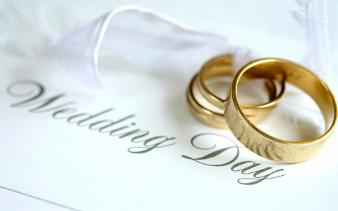 Special Orders
Weddings - Parties - Corporate Gifts - Appreciation - Team Spirit
We're happy to mix a special batch for your special event, using your color choices! We can mix 2 or more colors in one piece of taffy for a very special impression. Contact us to find out about this unique opportunity, and WOW your guests when you hand them your ultra fresh, custom color treat.
Many Brides & Grooms celebrate with our taffy as a sweet memory of growing up in or spending an important life chapter in the Estes Valley... When your guests see taffy from our shop, there's sure to be fond reminiscing at hand.
Let us know what you need!We will try to time our cooking schedule to provide a specific request, at no additional cost.
Print Taffy gift card at Home
Download and print our taffy gift announcement after you order a box, so you can 'hand over' a delicious gift of our fresh Estes Park Salt Water Taffy® in just a few minutes. Click the file link below, then print on your own paper, fold and give your taffy gift!
Works for any occasion.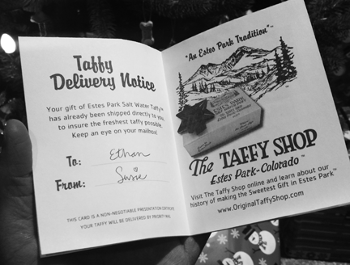 Inside, the card reads:

"Taffy Delivery Notice

Your gift of Estes Park Salt Water Taffy has already been shipped directly to you to insure the freshest taffy possible. Keep an eye on your mailbox!"
All website content © Copyright 2023 Original Taffy Shop, Inc
The Taffy Shop® Located at 121 West Elkhorn Ave Estes Park, Co (970) 586-4548