We're open all year
Store hours:
Daily 10:00 - 5:00
Sunday open at 12:00
Many days we may open earlier or close later. Please call ahead to confirm specific hours in person if you're traveling a long distance.
There are a few COVID related guidelines set in place by the county health dept:

--Limited number of customers in the store at one time
--Employees and customers must wear face masks when interacting
If you prefer, we will take your order by phone and deliver to you at the door during store hours (above): (970) 586-4548. You may pay at the door with cash or credit card.

-or-
BUY ONLINE for delivery to your home or business by mail


When we are closed, you may purchase our taffy at the Ore Cart Rock Shop, next door. Or, order online right now and we'll send fresh Estes Park Salt Water Taffy® directly to your home.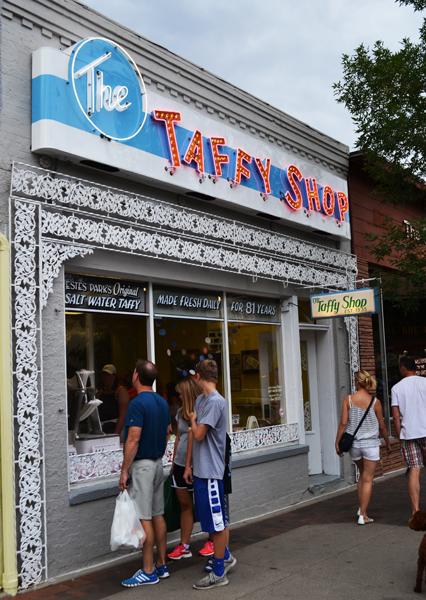 Many of our customers enjoy watching us make the taffy
To keep our taffy at it's freshest, we make the taffy as we need it. That means no firm production schedule. You're welcome to call us in the morning to see what the cooking schedule will be that day, and make sure you see the K Kiss machine in action- perhaps even get a piece straight from the sorting bin! Mmmm.
Send a box home, or to your lucky friends & family
Ask for a shipping form, then select the flavors, and we'll ship a box of your Estes Park Salt Water Taffy® selections with a personal note enclosed. Much more impressive than a "Wish You Were Here" postcard.
Package & shipping cost is $10 per address for any amount of taffy.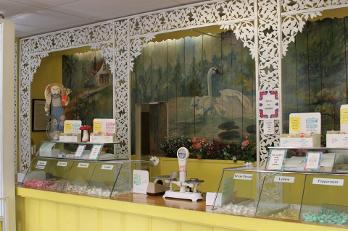 Don't miss the mural on our back wall. This oil work was originally painted by Edna Luick Nottingham (1883-1971) on a fence in the mid west- which was carefully disassembled and transported to our store in the early days. It has been carefully maintained since then and rekindles a vivid childhood memory for many returning customers. The care of the mural is overseen by a local artist to insure many more years of pristine display.
All website content © Copyright 2021 Original Taffy Shop, Inc
The Taffy Shop® Located at 121 West Elkhorn Ave Estes Park, Co (970) 586-4548